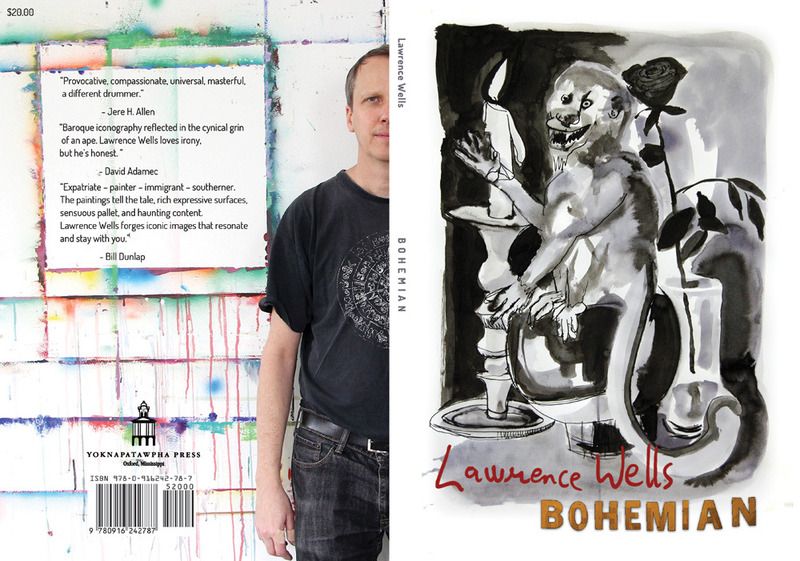 I'd like to announce the publication of my artist book, Lawrence Wells, Bohemian, Paintings 2011-2014.
Available on Amazon.
I will be launching the book in Oxford, MS on April 30. And on May 1, the following day, my exhibition will open at Yalo Studio Gallery in Water Valley, MS and will be up for two months. So from Prague to Mississippi and back again, I'm taking this show on the road.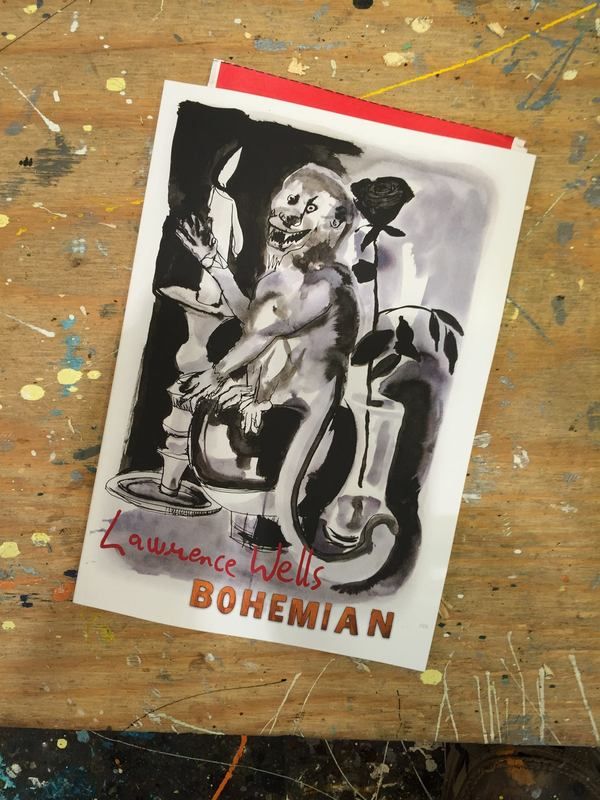 Bohemian is an artist monograph which documents Lawrence Wells' work from 2011-2014, covering six solo exhibitions he had in Prague and the Czech Republic during that time period. These expressionist, figurative paintings (impasto oil and acrylic studies) and drawings (gestural pen, brush and ink) combine symbols and motifs such as astronauts, Native Americans, skeletons, monkeys, still lifes, candlesticks, imaginary portraits, houseplants, sacred geometry, ocean liners, the Titanic, computer monitors, ghostly figures and office furniture. As an expatriate and emigrant, Wells deals with metaphors of travel, immigration, cultural difference, isolation, technology and the future. Wells went to Prague the first time in the early 1990s, as a member of the first wave of American expatriates. After living in New Orleans and New York, in 2001 he returned to Prague, where he continues to live and work in his studio in the former industrial area of Vysocany. He has shown his works in a number of underground, alternative spaces including AM180, Galerie Kytka, Berlinskej Model, Galerie Prokopka, and Galerie NTK among others. Wells' work moves from mysterious narratives to symbolic memento mori still lifes and emotional portraits to evocative hauntological examinations of retro-future nostalgia, becoming increasingly metaphysical as they approach the "Internet of Things" with a certain mistrust. Introductory essays by Lisa Howorth, art historian and author of the novel Flying Shoes, and Branislava Kuburovic, PhD, a writer and researcher in the interdisciplinary fields of performance and visual culture, currently teaching at Prague College; 118 images, both color and b/w, 138 pages. "Expatriate – painter – immigrant – southerner. The paintings tell the tale, rich expressive surfaces, sensuous pallet, and haunting content. Lawrence Wells forges iconic images that resonate and stay with you." --Bill Dunlap
also check my tumblr:
http://lwells.tumblr.com/